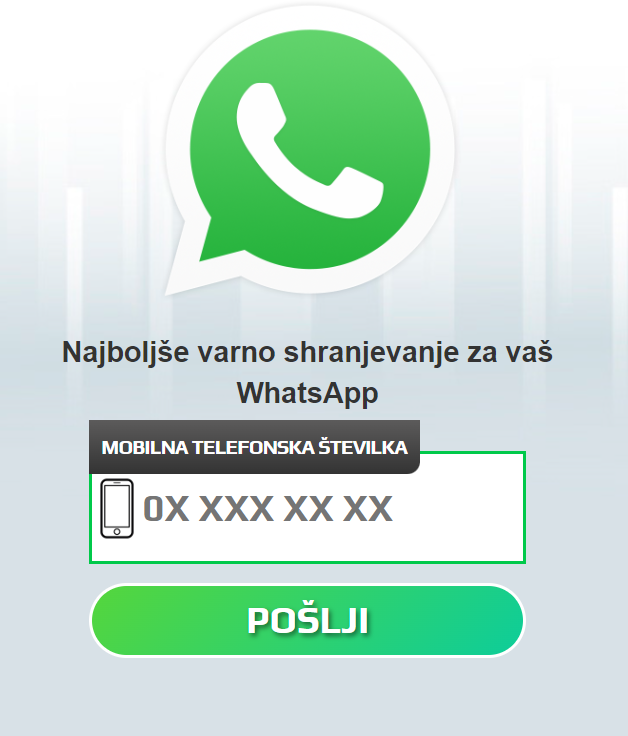 | | |
| --- | --- |
| Offer name: | [click2sms] SI | Whatsapp Data File * |
| Categories: | Mobile Subscriptions, Mainstream, Exclusive |
| Last Updated: | 2022-09-26 |
| Countries: | SI |
| Payout: | Get payout rate |
Description:
Carriers: Mobitel, Tusmobile, Simobil – 3G, Wi-fi – MO
Banners and prelanders must be approved
Restrictions: no adult, no AV, no aggressive advertising.
Attached you will also find the Marketing restrictions and banner requirements
Example of the text on creatives – Extract your Whatsapp data file to send via email, bluetooth or dropbox
About the service: This is the description of the product on Appsdorado content portal: Extracts your Whatsapp data file to send via email. Bluetooth or even dropbox for safe storage when you do not have an Internet connection in case of loss of your mobile phone. Easy to use with one touch! When you have your WhatsApp data file securely stored to reuse it, simply copy it back to your phone in the "/WhatsApp/Databases/" folder on your main storage device using your favorite folder browser.
| | |
| --- | --- |
| Offer name: | [click2sms] AT | Download Verify* |
| Categories: | Mobile Subscriptions, Mainstream, Exclusive |
| Last Updated: | 2022-09-26 |
| Countries: | AT |
| Payout: | Get payout rate |
Description:
Carriers: A1, H3G
Cap: 50 leads/day
Restrictions: no incentized traffics, content locking traffics, push notification, Affiliation traffic, smartlink traffic. Voucher/ Coupon/ Deals Sites / Use of promo-codes /Loyalty/ Cashback, SMS Marketing, ie: users receive messages with URL, Viral Marketing, ie: share voucher to get cash or freebies. Strictly prohibited auto-subscribing MSISDNs/i-frame traffics/malicious APP with AutoSub, Stolen sim cards traffics, Bot/Software Generated traffics, Adware/Spyware traffics. Sweepstakes/competition/prizes/rewards/voucher/coupon/whatsapp or any misleding materials, Antivirus/phone cleaning/scanning app campaigns
Not allow Wordings: free, bonus, claim, win, won, UPDATE your device (in English or other languages)
Copyright/trademark materials, Misleading and irrelevancy
Banner/Prelander: Require approval from advertiser. Custom creativities, ie: banners and prelander created in-house

| | |
| --- | --- |
| Offer name: | [click2sms] LT | PGT1 Phone Cleaner* |
| Categories: | Mobile Subscriptions, Mainstream, Exclusive, WhiteHat |
| Last Updated: | 2022-09-26 |
| Countries: | LT |
| Payout: | Get payout rate |
Description:
Flow: number entry + click2sms
OS: Android, iOS
Carriers: Telia (Omnitel), Tele2, BITE
Restrictions: autosub, clickjacking, i-framing, spam, in-app
Note: all prelanders must be preapproved. Don't use brand names or logos